Berlin, July 7, 2020 - From closed studio headphones to wireless earplugs: The vast majority of people in Germany cannot do without. Seven out of ten (71 percent) have headphones, for example to listen to music. This is the result of a representative survey commissioned by the Bitkom digital association. "Headphones have evolved from everyday items to lifestyle products," said Bitkom expert Dr. Sebastian Klöß. "If you have a smartphone and use streaming services, you usually also need headphones."
The most common are earplugs that can only be connected to a playback device by cable. Almost every second in Germany (46 percent) has such a model. Every fourth person (24 percent) owns completely wireless headphones, so-called true wireless headsets. This is followed by earplugs, which are connected to each other with a cable, but are connected wirelessly to a playback device. Every fifth person (19 percent) owns them. A similar number (18 percent) have strap-on headphones that are worn over the auricle and are wireless. 15 percent still have wired headphones. "The trend is clearly towards wireless headphones. The small in-ear headphones in particular are becoming increasingly popular and of high quality, "says Klöß. Most headphones are used regularly. Almost two thirds (64 percent) use their headphones at least several times a week, more than two in five (43 percent) even daily. However, 14 percent say: I never use my headphones.
4 out of 10 are planning new purchases
Many consumers also plan to buy headphones in the next 12 months. Two out of five consumers (41 percent) state this. For this, different criteria are important to them: For practically all respondents who are planning a purchase (96 percent), the sound quality is decisive. In nine out of ten (92 percent) it is the design. The price follows at a distance, for 85 percent it is an important purchase criterion. Eight out of ten (78 percent) consider a microphone in headphones as a significant purchase factor, for seven out of ten (70 percent) user reviews on online portals play a major role. For a good two thirds (68 percent), new headphones have to be suitable for sports, for example with a low weight or sweat resistance. A noise-canceling function - i.e. the active, technical suppression of outside noise - is decisive for six out of ten (60 percent), for a similar number of prospective buyers (59 percent) it is the integrated voice control. "Headphone sales are growing rapidly. The number of manufacturers and models has increased significantly in recent years, "said Klöß.
In which situations are the headphones used? Especially at home. A good two thirds of headphone owners (68 percent) state this. Two out of five (42 percent) have them on for a walk, a similar number while traveling (41 percent) and on bicycles (39 percent). A good third do sports with headphones (37 percent). And one in eight (12 percent) wears them during work.
Secondary benefit: hands-free calls
For many owners, headphones are also a practical aid in everyday life. More than half (54 percent) use it to be able to make calls without having to hold the cell phone in hand. One in two (49 percent) state that they can use the devices to hide their own environment - which is not only risk-free. 44 percent confirm that this has already put them in a dangerous situation. Two out of five (40 percent) also put on the headphones to signal that they do not want to be disturbed. One in seven (14 percent) put them on so as not to be distracted at work. And for 13 percent, headphones are a fashion accessory.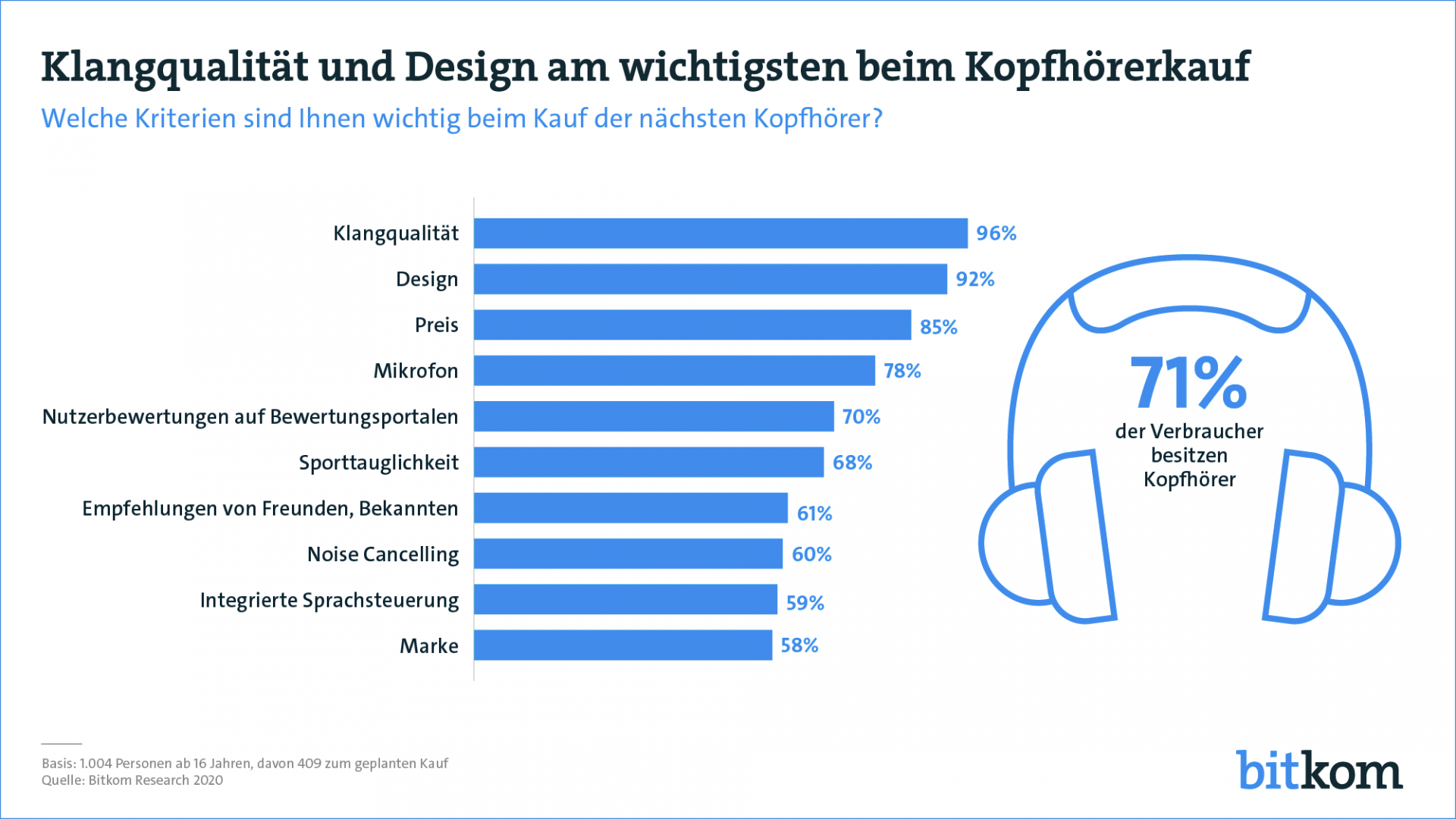 sound quality
design
price
mikrofon
User ratings
suitable for sports
recommended by friends
noise cancelling
integrated voice control
brandname