Μηνύματα

5.310
Reaction score

4.135
Aliens 30th Anniversary Blu-Ray set coming in September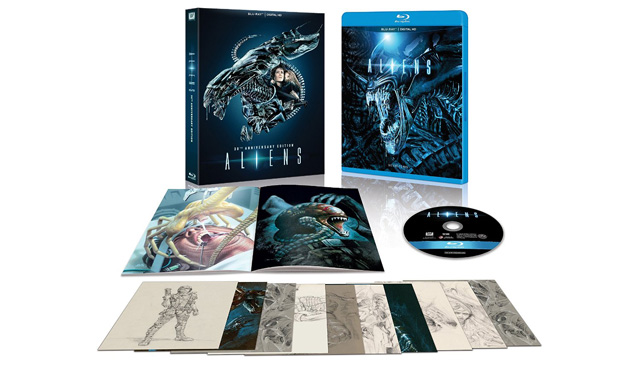 The trailblazing "haunted house in space" sci-fi horror masterpiece that is Ridley Scott's 1979 shocker
Alien
would have been a daunting act to follow for any filmmaker. But director James Cameron, hot off the success of his 1984 hit
The Terminator
, did just that, opting to not imitate the original for his sequel, 1986's
Aliens
, but instead building upon it, deepening the mythology and taking the story in new, exciting directions.
Aliens
is the ultimate monster war flick and it firmly locked the great Sigourney Weaver's reputation as the greatest female ass-kicker in genre film history.
Today, 20th Century Fox announced plans to release the ultimate tribute to
Aliens
: a 30th Anniversary Limited-Edition Set that features both the Theatrical and Special Edition versions of the film on Blu-Ray, as well as audio commentary, deleted and extended scenes and more. The set also includes collectible art cards, and a book featuring art from the Dark Horse Comics Aliens series with an all-new cover created exclusively for this 30th Anniversary Edition. The Blu-Ray and Digital HD release will include an all-new, documentary titled "The Inspiration and Design of Aliens" which delves into the origins of the film.
Aliens: The 30th Anniversary Edition Blu-Ray
streets on September 13th.
Here's the full list of features:
NEW – The Inspiration and Design of Aliens featurette
Deleted and Extended Scenes
Superior Firepower: Making Aliens
Superior Firepower: Making Aliens Enhancement
Pre-Production Galleries:
The Art of Aliens
Gateway Station and Colony
Vehicles and Weapons
Aliens
Casting
Cast Portrait Gallery